Orange Grove Veterinary Hospital is centrally situated in the North Eastern suburbs of Johannesburg. As a result we have many stray dogs and cats being handed over to our practice from concerned members of public. Any stray or lost animals brought into Orange Grove Veterinary Hospital are immediately scanned for a microchip and relevant details such as sex, breed, coat colour and where its was found are recorded.
When stray animals are handed over to Orange Grove Vet we often post their profiles on our Facebook page. We have had great success reuniting lost pets through the power of social media. 
More often than not, stray animals have no microchip, identity tag or even collar, making it almost impossible to track down their owners. Orange Grove Veterinary hospital therefore strongly recommends that all your pets have a microchip implanted and at the least wear a collar with identification tag.
Microchipping your pet is a once-off simple procedure which can be performed by your vet. The dog or cat (or other animal) is injected with a microchip usually behind the shoulder blades. The microchip is approximately 12mm long and approximately the size of a grain of rice. Every microchip contains a unique number which when scanned is linked to your pet's details (Name, Breed, Age, Owners contact details).
Visit our Facebook page for postings of Lost & Found pets at Orange Grove Vet.
When a microchipped animal goes missing and is brought into an SPCA branch or the Orange Grove Veterinary hospital, it will be scanned and the owner will be notified. For more information on microchipping your pet, contact Orange Grove Veterinary Hospital on (011) 728-1371.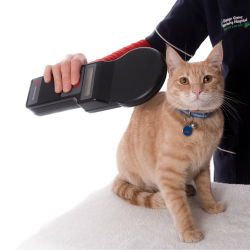 What to do if your pet goes missing?
Regardless of whether your pet has one or more of the forms of identification mentioned above, there is still a chance that if it goes missing, it may be difficult to find and return to you. Here are some additional steps pet owners should take if their pet goes missing:
Put up posters in your local neighbourhood with a picture of the missing pet and your contact information. Speak to neighbours, security guards and other domestic workers and ask them to keep an lookout for your pet.
Contact nearby vets and welfare facilities regarding your missing pet and give them your pet's details.
In recent years social media channels, such as Facebook have become very effective in spreading word about missing pets and helping to find their owners. Be sure to post the missing poster and ask your friends to share the post.
In the case of cats, sometimes they can roam the neighbourhood for longer  than usual. Be sure to leave out items such as a t-shirt with your scent and some food to entice them back home.
Contact your local SPCA
If your pet has gone missing call or visit your local SPCA to leave a missing pet report & to check if your pet has been taken there.
Orange Grove Vet falls under the Sandton & Eastern Metro SPCA and unclaimed animals are sent to this facility after 24 - 48 hours of  being handed over to us. Contact the Sandton SPCA on 011 444 7730/1/2